Hedge Fund Conferences & Events
Property Portal Watch Conference - Lisbon 2017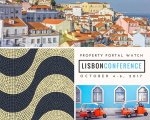 Location:
Praça do Comércio, Lisbon 1100
Country:
Portugal
Venue:
Pátio da Galé
Startdate:
Tuesday, October 03, 2017
Enddate:
Friday, October 06, 2017
Organizer:
Property Portal Watch
URL:
go.evvnt.com/143295-0
Contact Name:
Geo Davila
Contact Email:
events@propertyportalwatch.com
The Property Portal Watch Conference brings together C-Level management from property portals around the world. This is our 21st conference and our first in the exciting city of Lisbon.

Last year we had more than 300 participants in Madrid and this year we are expecting well over 350 in Lisbon.
The conference runs for 3 days from the 4th to 6th of October and will be held at the amazing Pátio da Galé.

This year's theme is Getting Closer to the Transaction - covering topics including VR & AR, AI, Machine Learning, Social Media, Emerging Market Opportunities, Big Data, Capital Raising, and Chatbots.

For the third time in Europe, we will be running a one day operational Best Practice Master Class on the day before the conference (3rd of October). This masterclass will be run by Simon Baker. You can attend either the conference, the masterclass or both sessions.